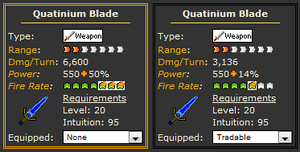 This is the storage area for all weapons, armor, modules and merged weapons you have. Equipment you have loaned from your clan's armory will appear here also. Note any borrowed clan items will be marked with an orange border instead of a black one, as shown to the right.
You can equip, unequip, or prepare to trade your brought items in here. Items shown will have details.
There is a link to the Armorers at the top of the page, where new weapons and armor can be purchased.
There is also a line showing the value of your total armory, and how this is made up from personal armor and that on loan from your clan.
An alternative armor listing view is available, which presents the items in a table rather than individual blocks.